A Semla (Semlor in plural) or fettisdagsbulle (fat Tuesday roll), is a typical Scandinavian pastry. Historically this dates from the 1500s. Usually, associated with the beginning of the lent.

The oldest version of this dessert consisted of a simple bun dipped in a bowl of hot milk. Today the cardamom flavored buns are filled with almond paste and vanilla whipped cream.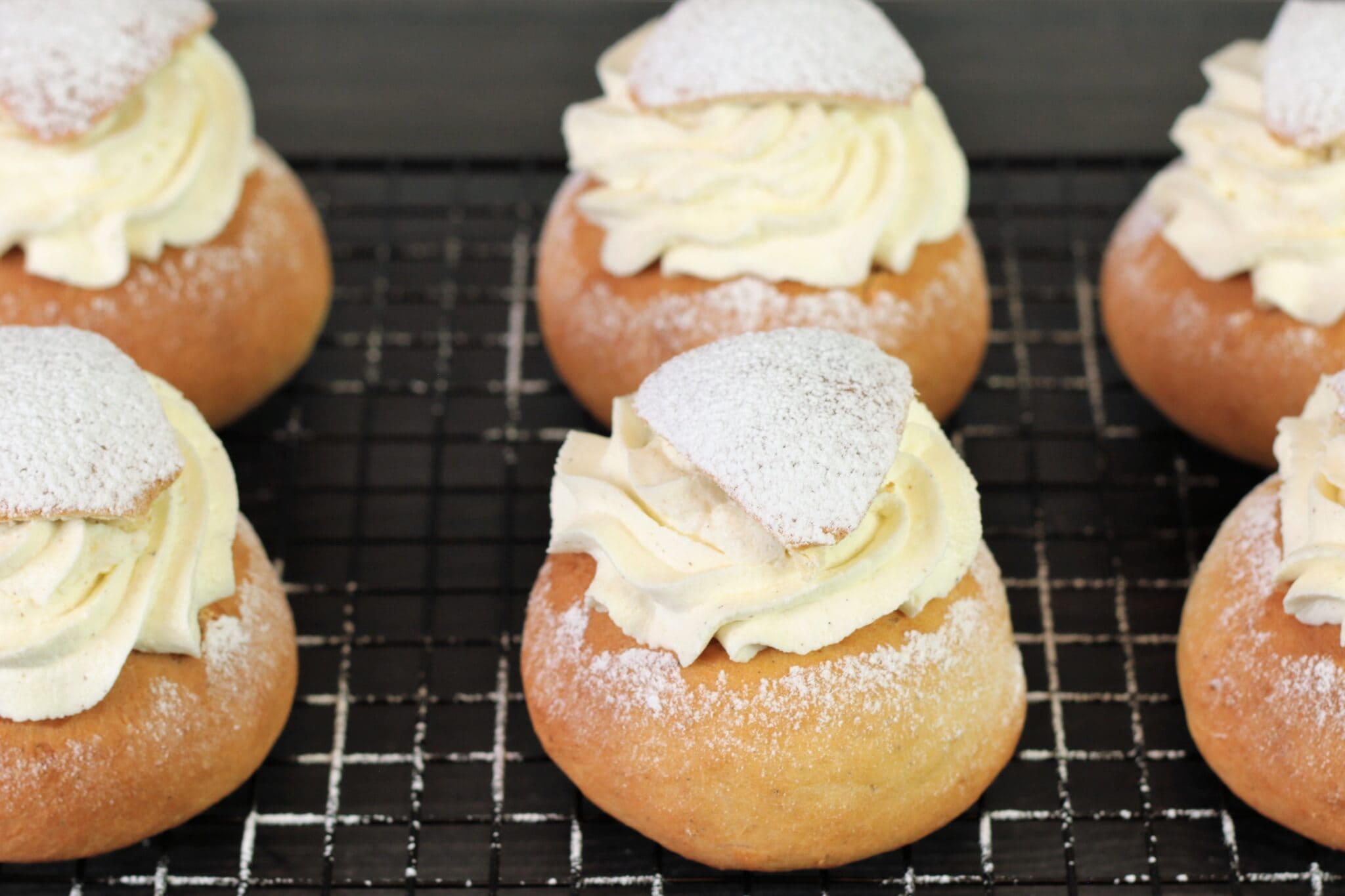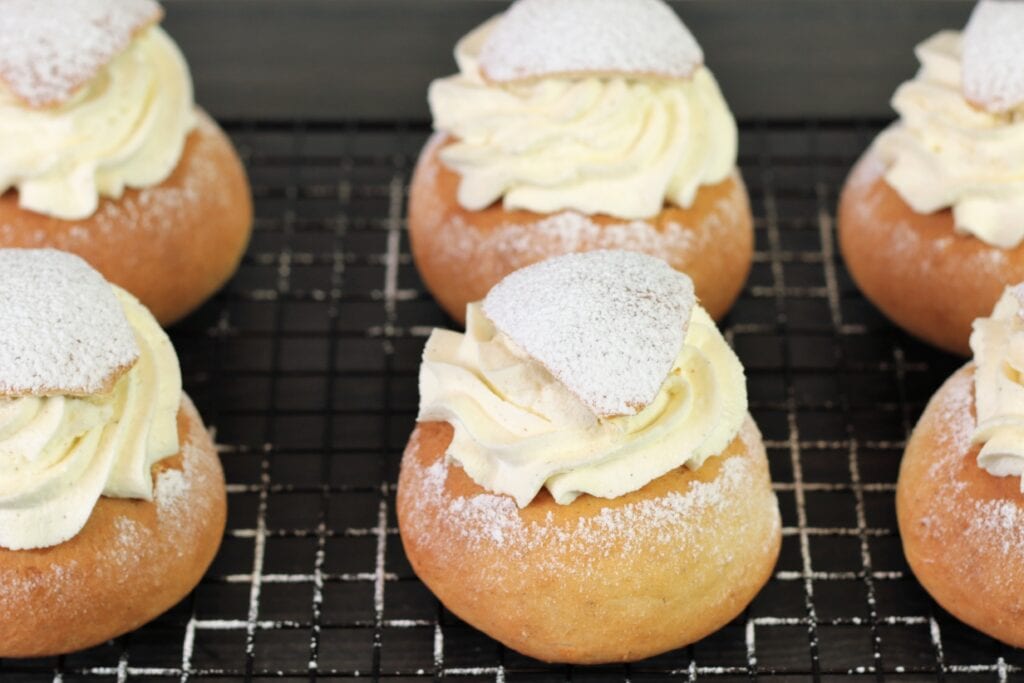 In Sweden, we consume around 40 million Semlor every year. As a result, it's almost 4 Semlor per Swede! The new takes on the Semla are Taco Semla, the Princess Semla, Semla Wrap and Nutella Semla, Doughnut semla, etc are just some of the variations that you can find in Sweden.
How do you eat Semlor? Semla the typical Scandinavian pastry can be accompanied by milk, tea or coffee. You traditionally consume this dessert by dipping it in hot milk.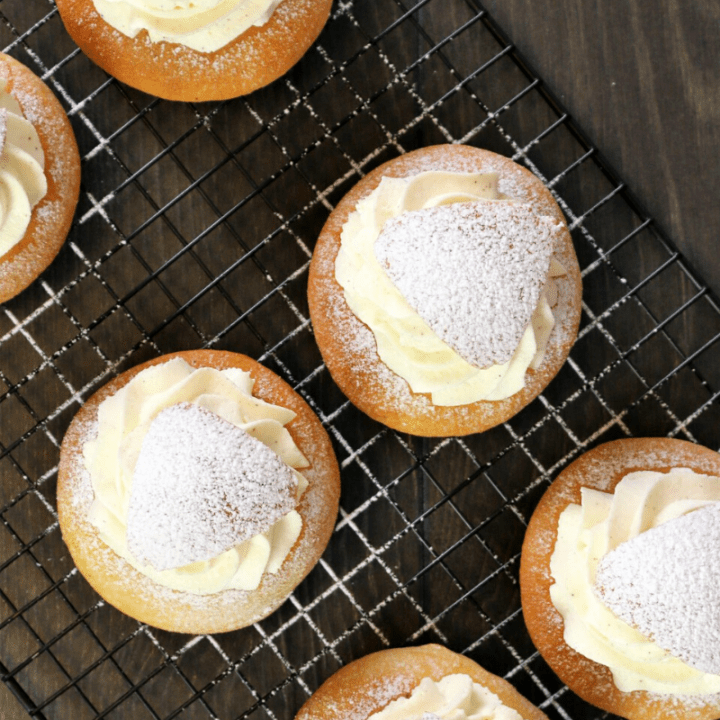 The SEMLA: Tasty variation of the Beloved Swedish pastry
Total Rise Time:
2 hours
20 minutes
Total Time:
2 hours
45 minutes
Our Version of SEMLA:
Soft buns flavored with Amaretto di Saronno liqueur and cardamom filled with white chocolate/almond/vanilla cream and topped with whipped vanilla cream and dusted with powdered sugar. Are you ready to bake some delicious goodies? Let's start!
Ingredients
The buns
150 ml/5.1 fl oz of Whole milk
100 ml/3.4 fl oz of Amaretto di Saronno
25g Fresh yeast or 7g (2¼ tsp) of active dried yeast
80 g /2.82 oz  of Granulated sugar
1 medium Egg
2 g /1/2 tsp of  salt
5 g /1 tbsp of ground cardamom
100 g /3.53 oz of Softened unsalted butter
460 g /16.54 oz of Good all-purpose flour 
1 egg, for egg wash, if desired (optional)
Almond Filling:
100g /3.53 oz of peeled almonds
2 tbsp of vanilla sugar
100 g /3.53 oz of white chocolate
100 g /3.53 oz of confectionery sugar  (powdered sugar)
100 g /3.53 oz of unsalted butter
75 ml /2.54 fl oz of Heavy cream
For decoration:
400 ml /13.78 oz Heavy cream
½ tsp Vanilla seeds or 1 tsp of vanilla extract
2 tbsp Powdered sugar + for dusting the buns on top.
Instructions
Add the flour sugar, salt, and ground cardamom on stand mixer's bowl and stir thoroughly. (If you use dry yeast added as well, we used the fresh that is very easy to find in Sweden).
Heat the milk and Amaretto di Saronno until just warm, 40ºC (104ºF) then dissolve the fresh yeast in it. Then add to the flour mix until combined.
Add the egg and then the softened butter a tbsp at the time with the motor running on low speed, wait until the butter is well combined then add the additional spoons.
Continue kneading on medium speed for about 5-7 minutes until the dough forms a ball and it feels smooth and elastic. The dough should now feel sticky, but it shouldn't stick to your fingers.
Cover the bowl with a plastic wrap and put it in a warm place or inside your oven with the light on (not hot) to rise for about 90 minutes or until doubled in size.
In the meanwhile, the Almonds, vanilla sugar, and confectioners sugar need to be blended together in a food processor or blender until thoroughly combined and fine in texture.
In a medium saucepan, melts the butter and the white chocolate on low temperature then add the almond mix in 3- 4 times and whisk constantly with a wooden spoon.
When the cream starts to thick add the heavy cream and stir for about 5 minutes until nice and smooth. Let it cool with a lid for 10 minutes then transfer to a piping bag and let it cool completely until the buns are ready.
When the dough is ready turn it out to a lightly floured surface. Knead again for a few minutes then cut the dough into 12 equal-sized pieces (75 g each). Shaped balls and place them on baking tray cover with parchment paper with good spacing between them. Leave to rise until double the size (about 30-40 minutes) under a kitchen towel.
Preheat the oven (not fun) to 200°C (400°F).
Bake the buns in the middle of the oven for 8-10 minutes, until golden brown but be careful to don't burn them.
Remove from the oven and cover immediately the tray with a kitchen towel to prevent the buns from forming a crust.
Whip cold heavy cream with the sugar and the vanilla seeds or extract.
When the buns have cooled down completely, cut triangle 'lids with the 'scissors from the top of the buns.

Scoop out about ⅓ of the inside of the bun and fill each of them with the white chocolate/almond cream then pipe a generous amount of whipped cream and put the 'lids' back on top.
Dust with powdered sugar and serve immediately. These buns are best eaten straight away.

Notes
How do you eat Semlor? Semlor can be accompanied by tea or coffee although, in some areas of Sweden, the old tradition of consuming this dessert has been maintained by dipping it in hot milk called 'hetvägg'.
Nutrition Information:
Yield:

12
Serving Size:

1
Amount Per Serving:
Calories:

646
Total Fat:

39g
Saturated Fat:

21g
Trans Fat:

1g
Unsaturated Fat:

16g
Cholesterol:

129mg
Sodium:

204mg
Carbohydrates:

64g
Fiber:

3g
Sugar:

30g
Protein:

12g
Nutrition information isn't always accurate.
Buon appetito!
You can freeze uncut and unfilled buns. To keep the buns soft, store them in an airtight container. Fill them before serving.